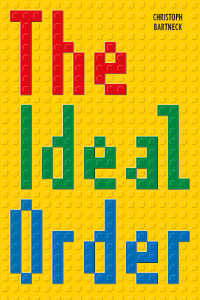 "There are parts in it that every AFOL, particularly those with young families, will relate to. The discussions between the protagonist and his colleague quite enlightening and you may well learn a lot about different approaches to nomenclature and taxonomies and how they relate to sorting and naming LEGO parts."
Huw Millington, Brickset
"The whole book whilst interlaced with the LEGO theme really is about the lead character's life changing and morphing into his new self. Having something to focus on to escape from a crisis I'm sure is something most people can relate to. Overall it was an interesting read, certainly an interesting angle, not only as it's told from the mans perspective, but it's also quite raw."
Ryan McNaught, LEGO Certified Professional
A nice reading book that we AFOLs will identify with as we the protagonist return to the world of LEGO.
Jose, HispaBricks
Synopsis
Dr. Rob Park's life is out of order. His estranged wife is leaving him, the relationship to his daughters is strained and his academic career is at a dead end. He escapes into the cult of LEGO and the study of classification systems. By sorting his collection of LEGO bricks he reconnects to his daughters and he maintains his sobriety while maneuvering in the bizarre world of academia. Prof. Dr. Smith and his newly found Adult Fans Of LEGO help him to find a new structure for himself, his brick collection and his family.
The Author
Dr. Christoph Bartneck is an associate professor at the University of Canterbury, New Zealand. He published over 150 scientific articles, chapters and books. The media frequently covers his research work on robotics. Working for the LEGO Group reignited his passion for the brick. He uses LEGO bricks for teaching courses and he is the author of the acclaimed LEGO Minifigure Catalogs. Christoph is the a founding member of New Zealand's biggest LEGO Users Group and the Imagination Station, New Zealand's first play and learning center using LEGO.
Available versions
The paper book is available directly from:
The eBook (ePub) is available on:


The eBook is also available for Amazon's Kindle: